Document layout by a print graphic designer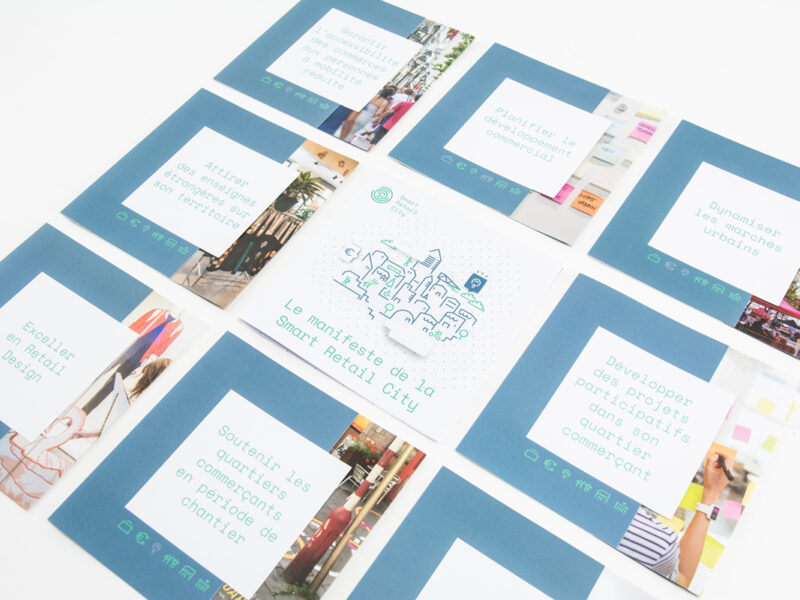 Brochure + folded poster series created for hub.brussels
Stand out from the crowd!
Meet Claire Allard, a print graphic designer in Brussels to create layouts for your documents Effective communication through high-impact layouts and structured, targeted visual communication. Transform your tricky to understand documents into accessible, eye-catching pieces. Immaculate, considered layouts. "Wow" factor guaranteed.
What is a graphic page layout?
To start off on the right foot and better understand one another, let's begin with a definition. The page layout represents the graphic arrangement of information content in a given space. This content may be text, illustrations, data visualisation, photographs, separately or combined. The layout work takes place after the collection and composition of the content but before the document is sent to print. The layout work performed by a graphic designer involves creating visual communication solutions tailored to the client's needs.
The benefits of good layouts
High-impact message
Simplified communication
Showcasing the organisation
Added value
The reader's desire to keep the publication
Wow factor!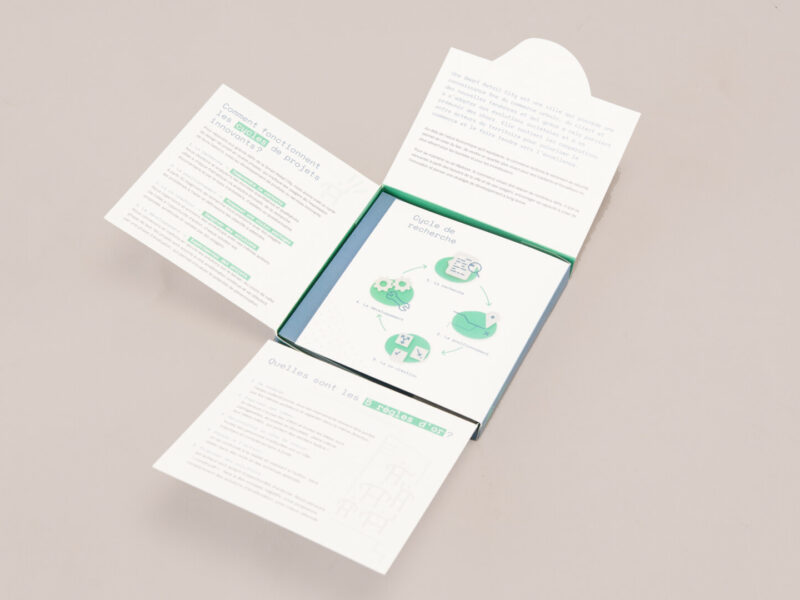 Box explaining the project methodology when unfolded (hub.brussels)
Mon rôle
As a graphic designer specialising in document layouts, I reorganise written content to transform the document into a communication tool. I help you convey your message to raise awareness or educate your target audience.
Are you unsure of which form your publication should take? Your project does not necessarily have to be fixed when we begin working together. In fact, through co-creation workshops that I organise at the beginning, we can determine the final medium and format for your project together. This method makes it possible to ensure that the medium selected is the perfect fit for your target audience while still respecting your print budget.
Through the use of copy, photography, illustration, data visualisation, (infographics, charts, etc.), I finalise your visual aids: books, flyers, posters, leaflets, etc. I am able to suggest innovative and original print and folding techniques which will make your creations unique.
Graphic layout for all types of media
Page layouts can take on different aspects. Some publications are one-offs, others may be recurrent. Thanks to my skills as a graphic designer, I am able to suggest innovative printing techniques: formats, paper, inks, print methods and cuts which respect the very essence and personality of your project.
Educational Tools / Toolkits
Magazines
Books
Practical guides
Annual reports
Activity reports
Posters
Brochures
Methodology
Before commencing a layout project, I like to conduct a co-creation workshop. This collaborative workshop makes it possible to determine your needs clearly and those of your audience. An invaluable and effective tool which avoids repeatedly going back and forth with the graphic designer to better grasp the issues at stake in the layout.
For the layout of your print documents, I recommend three ways of working. I can help you to determine which best suits your project:
If you have a clear idea of what you require, your target audience, etc. If your organisation already has an established graphic charter, your text is already written or thereabouts, a simple brief may be sufficient.
When there are still lots of issues that need resolving and/or if there are several project leaders, a co-creation workshop makes it possible to determine the form your publication will take together.
A complete process putting the user at the centre of the research, Design Thinking is a method which is realised through several workshops and therefore requires several months before creation of the final product.
Stages of the layout process
To start off, make an appointment on Calendly, a system which is directly linked to my diary. Give a brief outline of your enquiry.
PRELIMINARY TELEPHONE CALL
I'll call you for a 30-minute initial chat to get a grasp of your requirements. This way, we'll see if I'm the right person for your project. If necessary, we can schedule another hour-long meeting to hone in on your needs.
I will then submit a quote.
Once the quote is accepted we will draw up a contract to establish the task, schedule and method of working.
BRAINSTORMING/CO-CREATION WORKSHOP
Depending on the method selected, we will schedule a briefing, a co-creation workshop or an initial design thinking workshop (which will involve further workshops to achieve the final result)
I will come back to you with a proposal for a visual track and a mock-up (based on a section of your content) with explanations on its standard pages.
FEEDBACK
Then, we will organise a meeting with the project leader to give feedback on this initial mock-up.
Modifications to and validation of the mock-up
LAYOUT
I then take care of the layout for all content supplied in Word
CORRECTIONS
2 rounds of corrections (corrections on the PDF file)
DELIVERY OF FINAL PROOF
Delivery of the final page layout in PDF format ready for print for final approval and a smaller size PDF for on-line distribution
PRINTED DOCUMENT SUBMISSION
If you have opted to entrust me with the print management aspect, you will receive your package with all the printing
DIGITAL CAMPAIGN
We can also work together on the digital promotion of your project: creation of promotional posts, simplification of content in the form of carousels, etc.
How much does the page layout service cost?
The cost for page layout services depends on the support method selected (briefing, co-creation workshop or design thinking), the procedures linked to the creation of the mock-up and the complexity of the layout and number of pages.
For the mock-up, the following elements need consideration: have you already got a graphic charter or do you need to develop one? How complex is the publication, how many sections, symmetry of the layout? Do you need the services of a graphic designer for a one-off project or recurrent assignment?
The price per page will depend on your requirements: creation of tables, data visualisation, illustrations, emphasis, cross references, etc.
Do you need translation services? I can take on that task, handling coordination with the translator. This translation element is also calculated in the final price. Just so you know: for translations, the price per page is less than that of language 1.
I can also handle the quote and coordination with the printers so that you simply receive the final product and don't have to worry about the rest.
Note: the source file is never included in the page layout service cost. It can, however, be purchased by the client should they wish to continue to work on page setting a publication internally for example.
Are you looking for a print graphic designer in Brussels to create layouts for your documents? Do you think we might work well together? Please contact us!
Fill out the quote request form and we can discuss your project.
Request for quote