Innovative print techniques
Are you looking for new ideas to play with in printing? Meet Claire Allard, a print graphic designer in Brussels available for all your printing needs for communication documents Thanks to innovative printing techniques, I can help you structure the content and create a Wow factor to impress your clients.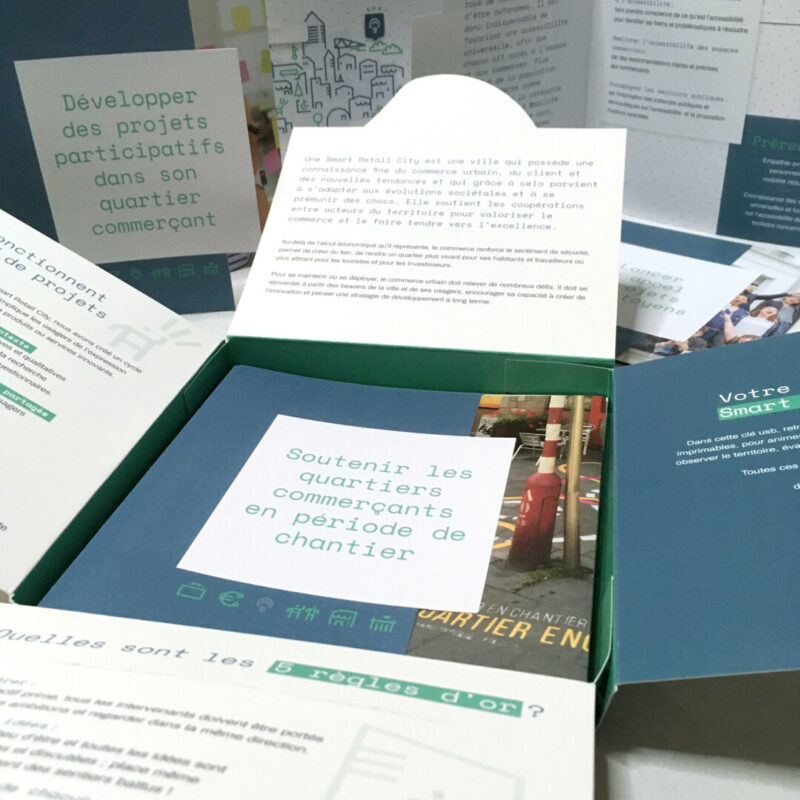 Tool box created for the Rereb project for hub.brussels. This box unfolds and tracks the development of the project while the results can be found inside in the form of leaflets and posters.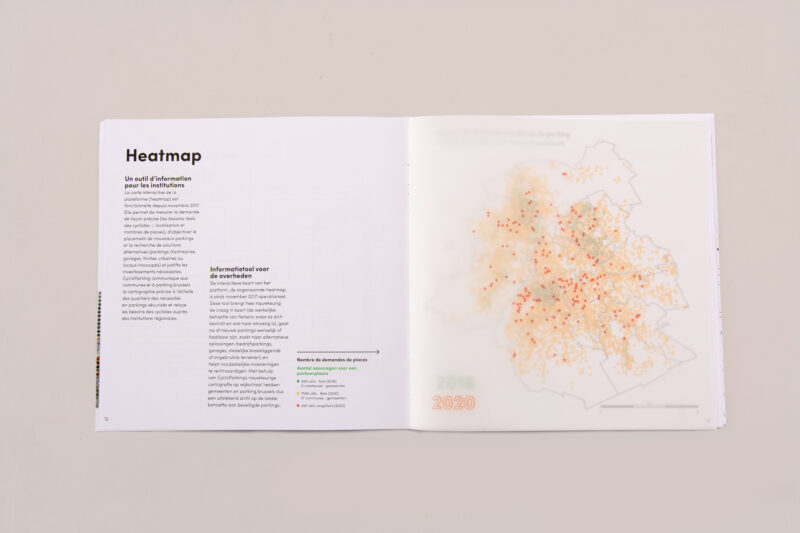 For this activity report for CycloParking, we used tracing paper for some pages to show the evolution of the data that can be seen in the infographics.
Different innovative print techniques
What type of printing will you select for your communication tools? Thanks to my experience in print graphic design, I'm here to help you through the process.
CUT-OUTS
Holes, special cuts to add an aesthetic and original effect to your publications (for your flyers, leaflets, book covers).
I will find the perfect fold to match the desired effect. A brochure can, for example, be transformed into a poster.
Pantone colours (that can be fluorescent, metallic, etc.) scratch inks, etc. Find the ideal ink to showcase your communication media.
Digital, offset, risograph, screen printing, letterpress, flocking, etc. I will help you select the print type for your project and budget.
Stapling, square back binding, yarn, spiral, eyelet: I will select the most aesthetically-pleasing and/or practical binding method for you.
Why choose an innovative print technique?
Originality
Wow factor!
Differentiation
Assists with reading
Printed illustration with risograph technique.
A print graphic designer in Brussels for innovative, aesthetic printing
There are so many different printing techniques and folds that it's tricky to describe them all. To find the right solution for your project and budget, it is recommended that you use the  co-creation workshop method so we can establish the format together for your printed communications.
Would you like to find out more about innovative printing techniques? Expand your knowledge and find creative ideas to stand out from your competitors and offer something truly original and extraordinary! Please contact us!
Fill out the quote request form and we can discuss your project.
Request for quote