Exhibition and event graphics
Permanent exhibition feature "the biodiversity garden" at PASS. Stencil on concrete and printed inscription on dibond
Stand out from the crowd!
Your exhibition deserves its own graphic identity. Claire Allard, a print graphic designer in Brussels, works with your organisation (non-profit, local or regional service, company) to create the visual identity for your next exhibition. Add a Wow factor to all your exhibition media: posters, signs, educational tools and/or learning games. Innovative visual communication, high-impact exhibition graphic design for a successful event.
On the same wavelength
In my work as a graphic designer, I am firmly committed to working together with my clients. Before commencing a layout project, I like to conduct a co-creation workshop. This collaborative workshop makes it possible to determine your needs clearly and those of your audience. An invaluable and effective tool which avoids repeatedly going back and forth with the graphic designer so that I am better able to grasp the issues with the layout project.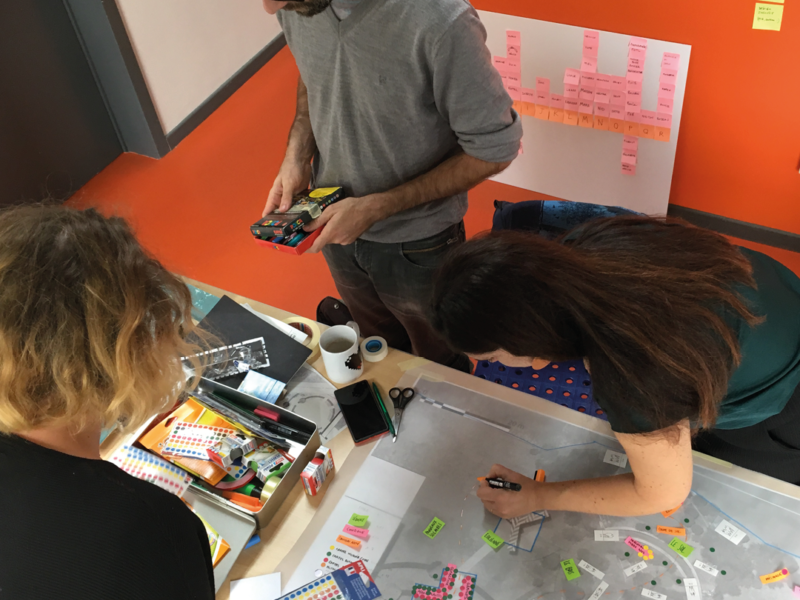 Co-creation workshop with the Pass Museum team and the landscape designers at BLOC Paysage to determine the implementation and content of the information panels
Exhibition graphic design
Layouts
Do you have a new exhibition coming up? Its visual identity can be developed in line with your graphic charter – if you already have one – or can be created specifically for the event. The graphic content of your next event must be easily recognisable and link to the target audience. Are you looking for a graphic designer in Brussels specialising in exhibition graphic design? I create the visual identity for your exhibition in close collaboration with museographers, set designers, curators and/or the museum team.
We can work with your printer if you already have a partner. If you don't, I can manage the selection process, quotes and coordination with printers. The diverse nature of media for exhibition and event graphic design may require several partners depending on the media to be printed.
Exhibition graphic media
In creating your graphic design for exhibitions, I handle the layouts for all types of graphic media:
Posters
Signage and panels
Murals
Visuals and diagrams
Programme
Brochure
Educational tools
Learning games
Plans and maps
To create the layouts for these different media, I use my two preferred tools: data visualisation and/or illustration.
Aerial photo of the biodiversity garden. Exhibition undertaken with Bloc Paysage for the SparkOH museum. Photo credit © Martin Detry – SparkOH
Event graphic design
Layouts
I also specialise in event graphics:
Conferences
Networking events
Conventions
Festivals
Screenings
Outdoor events
Temporary exhibitions
Event graphic design is a very comprehensive art. On board from the start of the process, I can, thanks to my experience as a print graphic designer, suggest suitable products and anticipate requirements. I often support my clients on site during their event to resolve any last-minute issues.
Event graphic media
In creating your graphic design for exhibitions, I handle the layouts for all types of graphic media:
Graphic content
Logo
Posters
Flyers
Stand dressing
Signage
Banners
Printed programmes
Pictograms
Badges
Screen backgrounds
Slides
Sections
Roll-ups
Displays
Stands
Social networks
Plan of the space
Advertising
Why use a print graphic designer?
Peace of mind
Bespoke solutions
Wow factor!
Clear understandable messaging
Working collaboratively
My methodology for exhibition and event graphic media
In the creation process for your exhibition graphic media, I recommend three ways of working. I can help you to determine which best suits your project.
If you have a clear idea of what you require, your target audience, etc. If your organisation already has an established graphic charter, your text is already written or thereabouts, a simple brief may be sufficient.
When there are still lots of issues that need resolving and/or if there are several project leaders, a co-creation workshop makes it possible to determine the form your publication will take together.
A complete process putting the user at the centre of the research, Design Thinking is a method which is realised through several workshops and therefore requires several months before creation of the final product.
Stages of the process
To start off, make an appointment on Calendly, a system which is directly linked to my diary. Give a brief outline of your enquiry.
PRELIMINARY TELEPHONE CALL
I'll call you for a 30-minute initial chat to get a grasp of your requirements. This way, we'll see if I'm the right person for your project. If necessary, we can schedule another hour-long meeting to hone in on your needs.
I will then submit a quote.
Once the quote is accepted we will draw up a contract to establish the task, schedule and method of working.
BRAINSTORMING/CO-CREATION WORKSHOP
Depending on the method selected, we will schedule a briefing, a co-creation workshop or an initial design thinking workshop (which will involve further workshops to achieve the final result)
I will come back to you with a proposal for a visual track and a mock-up (based on a section of your content) with explanations on its standard pages.
FEEDBACK
Then, we will organise a meeting with the project leader to give feedback on this initial mock-up.
Modifications to and validation of the mock-up
LAYOUT
I then take care of the layout for all content supplied in Word
CORRECTIONS
2 rounds of corrections (corrections on the PDF file)
DELIVERY OF FINAL PROOF
Delivery of the final page layout in PDF format ready for print for final approval and a smaller size PDF for on-line distribution
PRINTED DOCUMENT SUBMISSION
If you have opted to entrust me with the print management aspect, you will receive your package with all the printing
DIGITAL CAMPAIGN
We can also work together on the digital promotion of your project: creation of promotional posts, simplification of content in the form of carousels, etc.
Are you looking for a print graphic designer in Brussels for the graphic design of your next exhibition? Do you think we might work well together? Please contact us!
Fill out the quote request form and we can discuss your project.
Request for quote